Dustin's FORMER fishing coach
Supporting Member
Well Chad (BigSlam) got me motivated this morning to get out and try a groundhog hunt... He saw some out today and I finished some chores up, grabbed the .243 and out the door I went.... Got to the property and sat down and within 10 minutes this little lady popped her head out....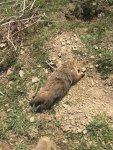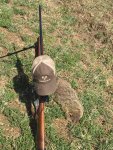 225 yards and down she went without a kick....
The official start to my 2017 groundhog hunt...