This product was invented and patented by a friend. He is not a hunter and he also happens to be one of our city councilman. The product is still being revised and is not on the market yet. I've tested this and I will give my analysis below his initial contact.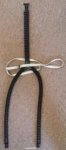 I need your help testing my new patented product. It's designed for hunters to keep them warm out in the woods when you're waiting for Bambi to show up. There are a lot of other uses, but that's our first target market. What I want to do is borrow my buddy Rick Ruffner's (owner of O-Deer Diner on Louisiana) walk-in fridge and see what you guys think of the product. Assuming it goes well I might want a few other guys to come and try it too. The testing would take about an hour. We'll all go in there, get cold standing around for 10 minutes or so, then use the product and see how well it keeps us comfortable against our baseline of coldness. From personal experience, it should keep us in good shape indefinitely, so the test will be boredom limited.

This can be done any morning of the week, really. He doesn't open until 11am. I'm pretty flexible. Please let me know what might work for you guys if you're interested in helping. I'll owe you some beers for sure.

I've attached a picture of the product so you can see what you'd be testing. Basically, you put a tube down each leg and those lead to a "Y" that then goes up to another hose and mouthpiece that you breathe into. So we are using cold air coming in our nose and exhaling warmed air down into our legs. This creates both a warm barrier layer between your clothing and the outside world, but also a positive pressure system that keeps cold air from penetrating your clothing in the first place. The belt holds it in place and makes it comfortable to wear. The best part is that if you go out at dawn when it's 25F and it's 45 by 1pm, you don't have strip down. Just stop using the product. It's custom heating in the field.
The idea behind this product is to use your breathe to warm your Femoral artery and in doing so, you warm your blood and then it flows through out your body from your feet all the way to your hands
.
Three of us entered a walk in cooler that was right around 32 degrees. It felt colder than that due to the two fans blowing on ours heads. We got good and cold and then put the product on and put our hunting bibs and boots on. I did start to warm up remarkably after about five minutes. The only thing I didn't like was constantly breathing in through my nose. My nose froze very quickly and I had to sneak breathes through my mouth. He is fixing that issue with a check valve so you can breathe both in and out from your mouth. The apparatus is comfortable and light. It will come with a carbon filter and silica gel insert to soak up any moisture.
I'm going to test this out in the field this winter. I won't be convinced until it's tested in a real hunting situation.
Last edited: