I feel i could write a book and upload thousands of pictures of this deer but I wont, I will try to keep this as short as possible.
This story will actually go all the way back to 2014 when i noticed a very good looking young 9 point, he looked like he had great potential and his rack grew a little out and up higher than what a normal deer usually does.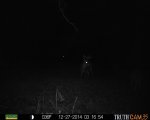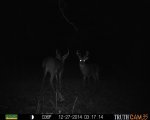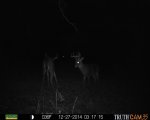 2015 comes around and he has definitely put on some size, I knew that hear he wasn't a deer I wanted to shoot but hopfeully he could survive and really turn into something. He was Heavy and an 8 that year, he looked as though he tried to sprout his g4 on the left side like the year before but he never did. At this time is when I named him "Heavy 8". I did end up seeing him from stand this year.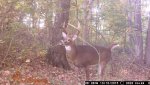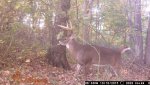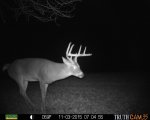 2016 rolls in and immediately as antlers are sprouting and they are pounding the minerals I start getting pictures of a weird racked buck, at first I wasnt sure who he was but soon after I realized the similarities with his left side being a bit more "upright" and "higher" that it must be Heavy 8! His rack was funky and i figured he had some sort of injury but he was back to having a g4 on his left side.