Last year I made a half hearted attempt at turkey hunting, the landowners dog decided to follow me around that day and put a quick end to my first attempt.
This year I have decided to give it a more serious approach. I have been looking at several different resources, scouting, practicing with calls and have gotten permission for a property I have seen turkeys on a regular basis.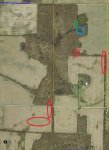 The yellow line indicates the area I currently have permission for, I am working on getting permission for the surrounding properties but this is the best I can do for now.
The red circles are where I have seen turkeys at various time over the past year. The circle in the lower left is where I spotted 24 last week, of those at least 7 had beards and 3 were in full strut. the circle just up and right of that is where I have seen turkey crossing the road (from north to south) around mid day last fall. the other red circles are spots where I saw a group of hens and poults last deer season. (the smaller of the 2 is where my treestand is and where I had a group of 4 hens and 6 poults step out 12 yards from me during opening weekend of deer season last year. one of the hens had a beard.)
the blue circle is where I had a flock show up on trail cam at dusk last fall. the group included a couple toms.
and the green circle is where A tom flew up int roost right behind me while I was in a climber last november. really spooked him when I moved to climb down a half hour later at the end of hunting time.
It would seem to me that the area around the pond at the green and blue circles would be the most likely place to look for a roosting area. But I have explored this area a couple times in the last few weeks and havent seen any indication of this (feathers, poop, ...)
So with season approaching, where would a more experienced turkey hunter be inclined to set up? even if it would be on an ajoining property?