Somebody educate me!
The sight I bought for my bow has a little light on it...I'm assuming for low light conditions, ie early morning or late at night. I've noticed that being the farthest east county on the 'west' side of the state, it's normally plenty bright enough to shoot come shooting light anyways...even though I guess bow season plays that half an hour before/after (whatever it is)...
Anyways, what the heck am I suppose to do, flip this thing on right before I draw back on a deer during last light...only to have the deer run away at the light? Maybe it's my shotty eyesight, but I can't see how lighted pins around going to help me hit a target behind the pins...wouldn't your eyes focus on the light and make what is behind it so much darker?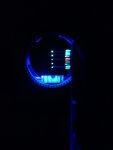 Last edited: