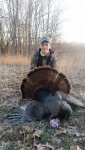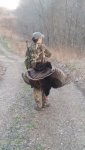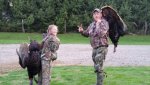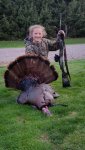 Drew got the season started by killing a bird at 6:45 am on Saturday.
Addy and I tried Sunday but had no luck.
Our plan Monday was to take Addy back out before school. She asked that if she got one could she stay home? Well of course, I told her thinking that it probably wouldn't happen, lol. I have never carried a gun anytime that I have taken my kids but as we we're leaving I grabbed Drew's 1187 just in case we would be lucky enough to call in multiple birds or if Addy missed or wounded one with her single shot .410. His gun was in front of mine in the cabinet and I figure it would work for that possibility, lol.
We arrived in the blind and I got her all setup. A bird gobbled at daylight about 150 yds away right where I was hoping they would be. I can still see her excitement in her eyes when he sounded off! He gobbled a couple more times when another let loose only 50 yds and another one too! I tree yelped a few times and they all answered. I told her as soon as we hear them fly down keep her gun on our decoy and don't move. Her bird pitched down and immediately I hear him spitting and drumming. Then the second one flew down. We seen his fan pop over the hill and he headed straight for our deke which was about 15 yds away. At 18 yds she asked now and I said yeah and she rolled him with a little 1/2 oz load of #7 hevi-shot. I started to run out of the blind but caught movement and seen the 2nd bird walking, I shot him at 35 yds for a double! It was Addy's 1st turk after several years of chasing them without any luck! My kids and I have made several incredible memories in the woods over the last several years but I believe the last 3 days have been the best!
Last edited: