I though that I would start this thread off right, and with pictures!
Well, it's technically not "my canoe" but someday it will be. My grandfather built this redwood canoe by hand in the 80s and then when he passed, my mother got it. Since then, it has been registered in Ohio and mom and dad took it out once or twice, but the bottom is getting to be too thin. They've talked about refinishing it, but it might not ever happen. I cannot wait (of course, not looking forward to the death of my parents, do not take it that way!) to have this family heirloom hanging from a cabin loft ceiling...right over the moose!
I do remember going out on Lake Ontario with grandpa in this canoe......I was probably 7 or 8, or less.
Sorry the pictures are not better, this is it hanging in the garage. My grandfather did everything to it and it took him two summers building it on the back porch to complete it, from hand planing the wood to weaving the seats by hand. It's truly a work of craftsmanship, art, and love. My grandfather was an Adirondack 46er, meaning that he climbed the highest 46 peaks in the Adirondacks (a feat that has been since accomplished by an aunt since his passing). He wasn't a hunter, but he loved camping and hiking. When he passed, I was able to get several pieces of clothing from him, my first pair of coveralls, a ton of socks, an old thermos, and a carhartt jacket that still fits me (barely).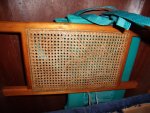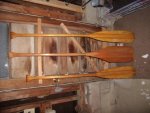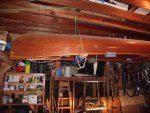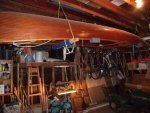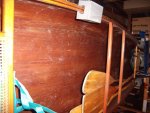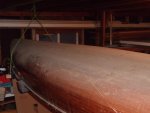 Capt