For sale: 2 year old water cooler and heater, takes the big bottles of water. Great shape and fully functional.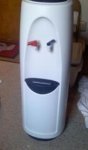 I have zero clue what it's worth, similar models on Ebay go for around $150 new...somebody make me an offer and we'll figure out shipping/delivery.
This would be great for an office or even a home!