Dignitary Member
Supporting Member
Well, I finally made it down to the farm yesterday to put in some food plots. I only had time to do two of them instead of 3 like I had planned, but all in all I think they turned out really well.
Both plots were slightly over 1/4 acre each. Before disking the ground, I layed down 40# of 46-0-0 urea in each plot, since brassicas like a lot of nitrogen in the soil. I then ran the disk over the soil to break up the sod, then pulled my spike harrow over top to break up the clods. Finally, broadcasted the seed and packed it in by running the quad back and forth (cultipacker is on the to-do list for next year).
This first one was put in the area of an existing plot. The existing plot was about 1/2 acre, planted to oats/rye/clover last fall... now just clover coming in. I basically cut this plot in half, hoping that I can get in there and throw some more oats and rye down in september. The seed I planted was a mixture of 1.5# PTTs, and 2# of the Evolved Harvest Rack Radish Crush... which consists of T-Raptor rape and Daikon radishes.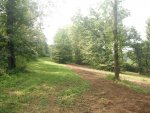 [
This second plot is in a new location, but only about 200 yds from the first plot. There is an old barn right in front of it so this is sort of an experimental situation. I know there is usually a lot of deer traffic through here, though, so I have faith in it. The south end is somewhat out in the open, but the north end extends back into the trees and becomes more secluded. The nice thing is that there are several trees on the north end that would out really well for a treestand. The seed I planted in this plot consisted of 1.5# PTTs, and 4# of Evolved Harvest Pro Graze. The Pro Graze is a rape and turnip blend, but also contains some perennial clover and chickory. Since this is a new plot, the sod didn't want to break up as easily and there were more clods, so I planted on the heavy side thinking my germination rate might be lower. We'll see what happens.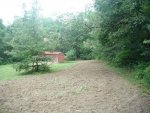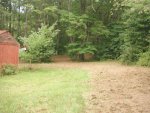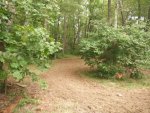 Last edited: