Dignitary Member
Staff member
.
OOooooooo...... Ahhhhhhhhhhhh......
Expected for 2011 is a new "Tiny-W" cam from spypoint.. But what makes this unit so cool is it has the ability to wireless copy images to a hidden base unit called a "black box" Talk about a trespasser, thief buster!
Size 4.5" x 3.5" x 2.7"
Video recording mode or multi-shot mode takes up to 6 shots in a row. 8.0 megapixel color images and 640 x 480 video by day.
38 infrared LEDs black-and-white images and video.
Seven zone detection sensors are adjustable from 5' to 50'.
Date, Time, temperature and moon phases are stamped on each photo.
Removable SD/SDHC cards as large as 32GB
Viewing screen.
Runs on 6 AA batteries or a rechargeable lithium pack
The best part of the whole deal
PRICE!
MSRP on the combo is $299.00
The Cam by itself is $199.00
Cam and Base unit.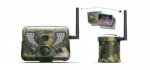 Tiny-W cam next to older FL-A Cam