Spent all day today in the woods. I've been waiting for today for a long time.
I didn't know that this season would mean as much to me as it does this time last year. My 5 year old daughter was diagnosed with a brain tumor at the end of June this year. Just 10 weeks after her diagnosis, that tumor took her life and she went to be with Jesus. It has been a rough two weeks since her death, but God is watching over our family. I know she is in no pain, so it does me good to know it's just something that our family has to get through...she's as good as ever
I went to the woods today to talk with her and with God. I did just that. I sat in my tree and watched all that God has put in to place and was grateful. I was glad that she could come on this hunt with me too. She always wanted to hunt with me, but never quite was old enough to be able to sit. Today, she hung with me all day. It was sweet.
About 7pm tonight I was talking to her and a little 6pt walked in. I decided right then it was the buck that I was supposed to take today. She led him my way. So I did. Broadside, double lung, at 20 yards, perfection.
It isn't my biggest deer, but it is the one I am most proud of. Ava brought me that deer and we took him together. I'll post a pic tomorrow, but for now I just wanted to share the story with some other guys that would know what I meant when I talked about how cool this was for me.
Now, on to the bigger boys that she will lead me to this fall. It was a great day today.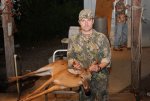 Last edited: