Dignitary Member
Staff member
.
I'm not one for most conspiracy theories.. But i do ask questions when 2+2 doesn't make 4... There has been an awful amount of recanting from earlier statements about the bin laden op.. Like, he used his wife as a human shield, they killed his wife, etc. But now they say, she wasn't used as a human shield but rushed them, and, she wasn't killed, only shot in the leg. Sounds like some details that shouldn't have got messed up, especially when they were watching a live feed from the helmet cam of the soldiers themselves. But the biggest burning question to me is a logistical one..
I've ridden in UH-60 Black hawks while in the Army. And this one question nags at me.. They at first said the sent 4 UH-60s.. Now they say only 2.. We know one crashed. Here is my question..
1 pilot, 1 Co-Pilot, 2 Crew Chiefs. This is the standard crew for a BH. Granted they may have left 1 crew chief. Lets assume they did..
Plus as they said 24 SEALs..
Plus 1 dead asshole.
Plus all the intel. I mean boxes of shit, I bet they took everything made of paper right down to the TV Guide..
SO.. The question becomes.. How do you fit 30 soldiers in full battle rattle, and 1 dead guy, with captured intel, into 1 UH-60?
Here is 9 in frame to give you a good idea of how tight that is. I have seen them carry 11+crew for 14.. But 30 + intel + 1 E-KIA? Christ sakes. It's not a clown car. :smiley_chinrub: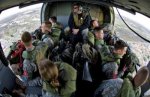 Just a question i think is interesting.. That's all... Maybe they sling loaded the 2nd crew. "Everybody in the Net!"" rotflmao